Exclusive Workshop: Cracking Da VinciX Code
27th Nov 2018

Working closely with our partners at Wzard Innovation, we have designed an exclusive workshop to help businesses to understand the new opportunities presented by Robotic Process Automation and Artificial Intelligence.
This collaborative workshop will provide practical insights from industry veterans and provide plenty of opportunities to discuss and debate the topic with industry peers.  Be ready to bring along all your opportunities, challenges and thoughts on the topic of automation as there will be many opportunities to to develop the best strategies for successful implementation.
A FREE copy of Digital Workforce worth £9.99 will be given to all attendees at the end of the session.
The workshop will be held at the etc. Venues Marble Arch, located at Garfield House, 86 Edgware Road London.  Sign Up details here.
If you are unable to make it along but would be interested in future events then please subscribe to our mailing list in order to receive all the latest news updates.
If you are looking for impartial advice on how to start or scale your RPA  journey then please contact us, to learn more about how you can accelerate your RPA programme by working with the people who literally wrote the book on RPA!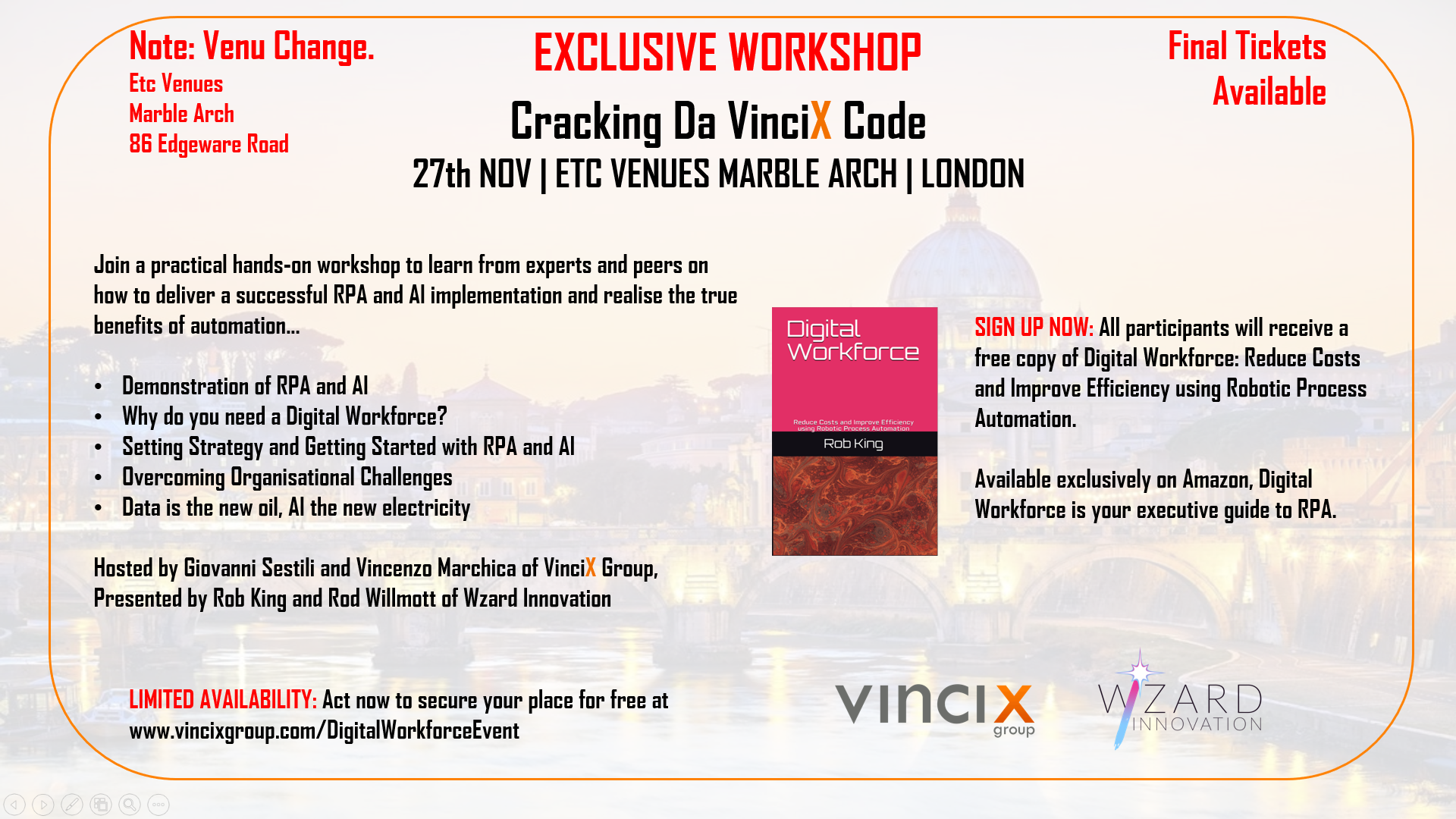 Vincix Group
Founded by Vincenzo Marchica, Vincix Group is a multi-national RPA and AI company focused on streamlining, optimizing and automating key processes for customers.
Vincix Group's RPA solutions do not require changes in IT or hardware resources, ensuring accelerated flow of information, reducing operational errors and eliminating delays. Vincix Group's ultimate goal is to make business processes more robust, faster and more efficient.
Vincix Group helps its customers to make business processes more effective, faster and more efficient.
For 10 years it has specialized in Robotic Process Automation (RPA) solutions that allow to obtain:
Significant benefits
In a very short time
On the existing IT infrastructure
Our Goal:
Design and implement automation solutions at Pay Back Time <12 months not only "reducing / eliminating repetitive and low-value activities" but also:
Optimizing

processes

Enhancing the work of

people

Using the elemental data processed for:

Constantly monitor KPI and SLA
Encourage continuous improvement
Feed applications of Artificial Intelligence
"Mission Impossible Team"
If someone answered you that a project is impossible... call us
Vincix Group is like the "Navy SEAL"... If we start a project we will accomplish it... we don't leave anyone on the road!
NEW YORK, NY – APRIL 4, 2018 – Today, The Institute for Robotic Process Automation & AI (IRPA AI) has announced its Italy Chapter to be led by Vincix Group's CEO and Founder, Vincenzo Marchica.

IRPA AI's partnership with Vincix Group will provide this new chapter with leading-edge market intelligence, best practices, networking opportunities and other essential resources and guidance that are necessary to build a successful ecosystem. The chapter will also serve as a platform to deliver training, talent and access to the next wave of emerging RPA and AI tech.
"We have aggressive plans in this space and jumped at this opportunity to be associated with IRPA AI as Italy's Chapter lead in order to further position ourselves as committed industry leaders," said Vincix Group CEO and Founder, Vincenzo Marchica. "We firmly believe that Robotic Process Automation is the way forward to market challenges in a competitive environment. RPA represents a winning strategic move towards optimization and competitiveness, and our designation as an IRPA AI Chapter Leader will help us guide our regional business community to better compete in a global market."
"We're proud to partner with Vincix Group and have Vincenzo at the helm of the Italy Chapter," said IRPA AI Founder Frank Casale. "It has become clear to us that the expansion of IRPA AI into regional chapters allows for additional training and education opportunities, technology and an enhanced connectedness throughout the global RPA & AI community."
RPA Hackathon
by Vincix Group
#RPAHackathon by #VincixGroup is the largest RPA world challenge!  #RPAChallenge
Are you an RPA analyst, architect or developer and want to challenge other professionals like you?
A true digital challenge to overcome its limits and to experience new solutions.
Get tested and check your score in the world rankings!
For each level do you complete successfully, under specific time, you will receive an RPA Hackathon Certificate!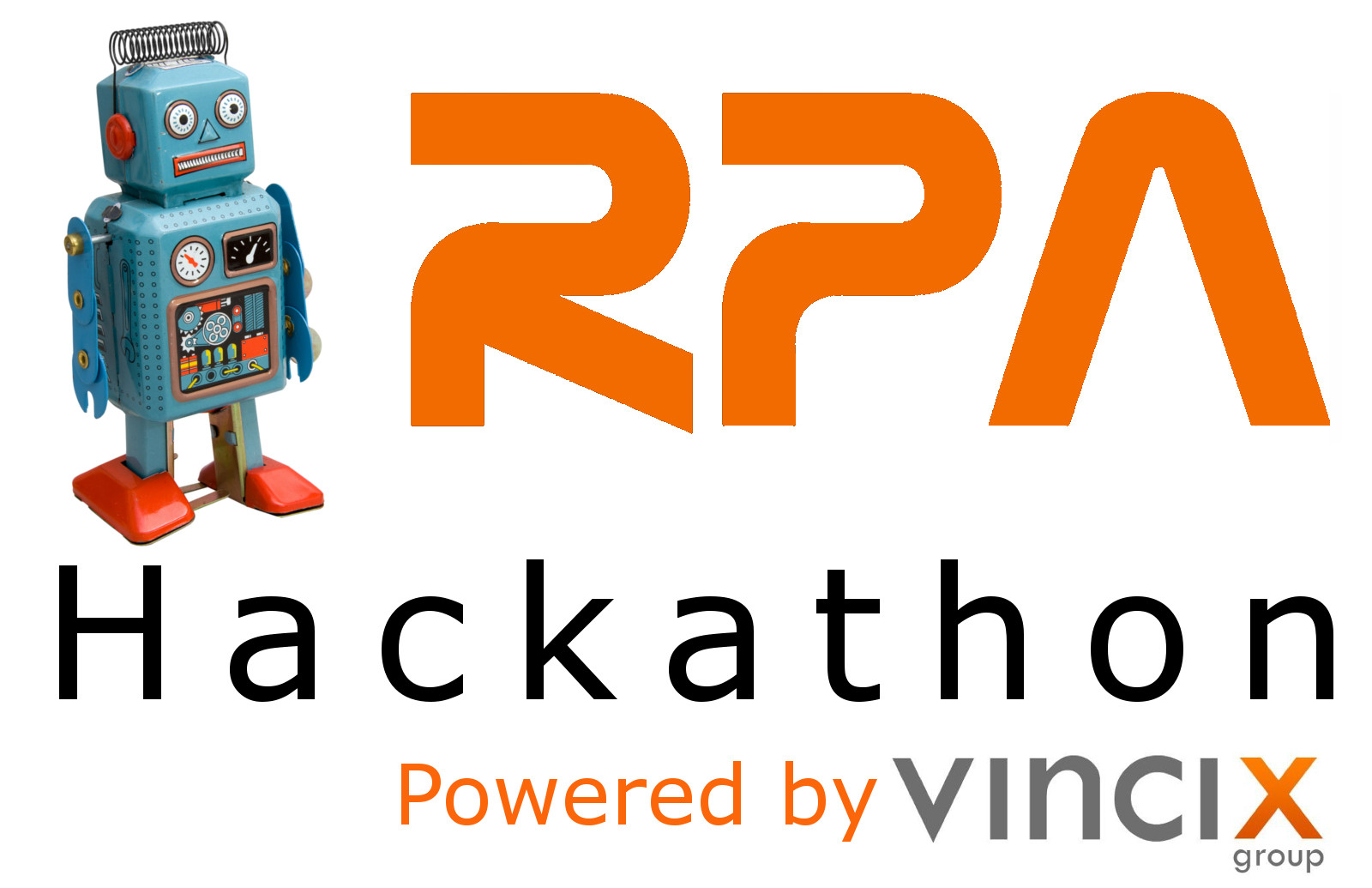 Project realized and released in production
Agents managed by our control rooms